The global announcement by Corteva Agriscience of the commercial launch of Optimum GLY® trait technology for canola into Australia has been welcomed by GenTech Seeds Pty Ltd, the producer and distributor of Pioneer brand Seeds in Australia.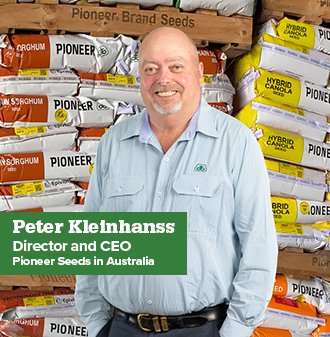 GenTech Seeds CEO Peter Kleinhanss said the launch represented a "significant milestone for our business, further strengthening the industry-leading Pioneer brand canola portfolio here in Australia".
"The advanced herbicide-tolerant trait technology will provide Australian growers with enhanced weed control and a wider window of herbicide application, compared to first-generation glyphosate technologies" he said.
Optimum GLY canola hybrids have been bred to deliver reliable yield potential and agronomic trait performance, along with providing growers with a greater measure of control over their crop through greater choice and versatility along with effective and responsible weed management solutions.
Mr Kleinhanss said the company is pleased to be launching this new technology in the market leading Pioneer brand Y Series® canola germplasm.
"Australian canola growers have come to know and trust Y Series canola hybrids since their initial release in 2006. 
"We have kept these unique hybrids at the forefront of new and alternative herbicide tolerant technologies to support responsible weed management in crop rotations.
"The introduction of Y Series canola hybrids with the Optimum GLY trait represents a significant step forward for the industry."
The Corteva and Pioneer canola research teams in Australia have been working for more than a decade to ensure that the first Optimum GLY hybrids to be released to the market meet the demands of the tough Australian environment.
Optimum GLY technology will be commercially available in Australia in 2024.
The focus this season will be to introduce the Optimum GLY canola hybrids to the Australian canola industry through field demonstrations, along with preparing for the 2024 sowing season with licensing and communication regarding trait stewardship.
Pioneer only introduces new hybrids to the market following a comprehensive multi-season, area-wide testing product development process.
The Pioneer brand is aligned with the 'Excellence Through Stewardship' (ETS) product stewardship program and implements rigorous quality management systems throughout the full life cycle of its products.
Media Contact:
Julie McKerrow
Marketing Manager, Pioneer Seeds
+61 407 632 652
julie.mckerrow@gentechseeds.com
®, TM, SM Trademarks and service marks of DuPont, Corteva Agrosciences or Pioneer, and their affiliated companies or their respective owners.