When a series of trials were conducted to examine the impact of corn leaf removal on yield and stalk quality it was concluded that the entire canopy is important to final yield, even as late as the R5 stage of crop development.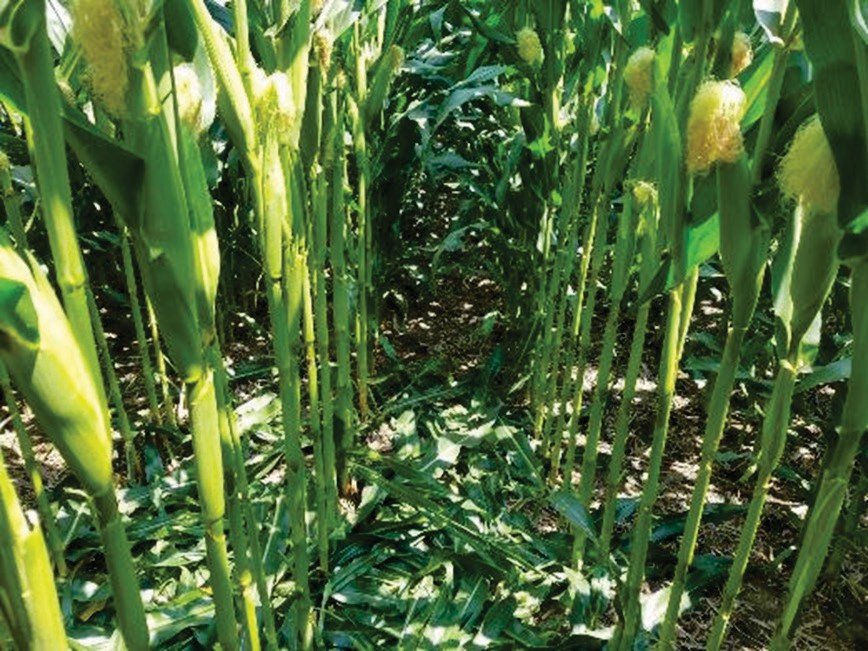 Growers should proactively protect healthy leaf area through appropriate hybrid selection, followed up with fungicide applications if the risk of foliar disease infestation looks like impacting crop economics.
If enough leaf area is lost before grain physiological maturity, it can lead to solubilisation and remobilisation of the carbohydrates in the stalk.
This can result in poor late season stalk integrity, stalk lodging and harvest issues.
Figure 1. (right): All leaves below ear removed at R3 stage of crop development.
Key findings
The impact of leaf removal on yield and late season stalk integrity is highly dependent on which leaves on the plant are removed.
Yield components of kernel number and ear weight were both affected by loss of leaf area at the R4 and R5 stage of crop development.
This study demonstrated the importance of protecting the crop from leaf area loss as late as the R5 stage of crop development.
Objectives
Loss of healthy leaf area in corn due to factors such as foliar diseases, pest infestations, or hail damage that reduces the supply of photosynthate for filling the ear, which can reduce yield.
Lost leaf area can also lead to reduced stalk quality and standability as the plant remobilises carbohydrates from the stalk to compensate for the reduction in photosynthesis.
At a demonstration site in 2022, leaves were removed from corn plants during grain fill to show the effects of reduced leaf area on yield and stalk quality.
In one demonstration, leaves were removed at the R2-R3 development stage and in the other at the R4 stage and R5 stage.