Last year, Felton South growers Leon and Kerri Gillespie planted Pioneer® brand Seeds' A14 hybrid grain sorghum on about 85 hectares of their dryland paddocks.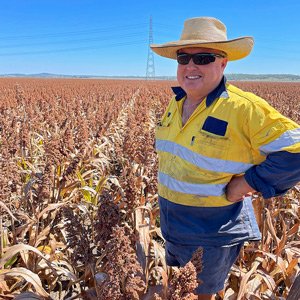 Over the years they've gravitated towards Pioneer's A14 grain sorghum as a hybrid that performs reliably on their property.
"We have grown Pioneer's G33 sorghum previously because it stood well, but now we grow A14 because it stands and yields more consistently," Leon says.
"I like it even better than G33, because it just keeps going."
Leon and Kerri both have deep connections to Queensland farming life, while the Gillespie sorghum paddocks at Felton cover a range of box country and black soil plains, a common profile for the region, about 40 km south of Toowoomba, south-east Queensland.
Planted on 75 cm row spacing towards the end of September 2022, A14 showed good early vigour.
"We had a good, fairly even strike; we aim for about five plants per metre."
Their planting regime included a liquid starter fertiliser at sowing, followed up later with an application of Urea.
With very little rain from November to harvest at the end of February, the Gillespie's A14 sorghum relied almost entirely on soil moisture.
Known for its height uniformity, A14 didn't disappoint.
"We had good uniformity, and no trouble with screenings, which were about one or two per cent for much of the crop," Leon says.
Their sorghum crops are generally grown on a short fallow from mungbeans or sorghum and they might grow three to four sorghum crops, dependant on weather and market outlook, before rotating back to winter crops.
With a dryland yield of 5.6 tonne/hectare that Leon concedes was 'pretty good', they'll be planting A14 again this September.
[ENDS]
Photo: Felton South grower Leon Gillespie with his family's 5.6 tonne/hectare dryland hybrid sorghum in south-east Queensland.
Note:
A14 is a medium maturity hybrid sorghum that's been proven from an initial three years of research-site testing, then advanced to Pioneer's Seed Technology Research in Key Environments (STRIKE) trial program.
Known for its large grain with high quality and good colour, A14 is a proven performer in the medium-maturity range with excellent height uniformity and adaptability. The Pioneer ® brand Seeds Territory Sales Manager for the Felton region is Ben Thrift.