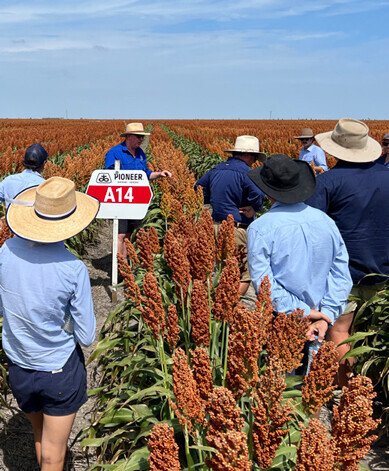 The steadfast hybrid grain sorghum for sustained performance season-on-season
This grain sorghum hybrid has an impressive track record. Long-time growers trust A14 for yield consistency, year-on-year.
If you're looking for large grain with high quality and good colour, A14 is a proven performer in the medium maturity range with excellent height uniformity.
Known for its adaptability in paddocks across a variety of conditions, expect performance and reliability from this tough grain sorghum hybrid to deliver results in Australian conditions.
Tested by exhaustive scientific and field trials
A14 is a medium maturity hybrid sorghum that's been proven from an initial three years of research-site testing, then advanced to our Seed Technology Research In Key Environments (STRIKE) trial program. There are about 40 STRIKE trial locations across the country each year.
Talk to a Pioneer Brand Seeds representative about your grain sorghum options.
Alternatively, register with us (below) to stay informed of field days in your region, affording you an opportunity to personally inspect this medium maturity hybrid grain sorghum.