Growers often surprised at the resilience of Pioneer® hybrid corn P2307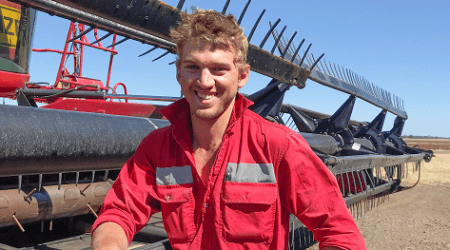 After standing up to 150-km per hour winds to produce their best ever corn silage crop, it's fair to say Ben Ronnfeldt (pictured) was impressed with the performance of Pioneer® hybrid P2307 corn in the 2017-2018 summer.
The testing conditions came from a twister which went through the Ronnfeldt's Dalby property on New Year's Eve 2017.
"The storm wrote my house off, completely blew it away," Ben says.
"But probably 80 per cent of P2307 corn was still standing, it didn't even have a lean on it.
"It was incredible, I was expecting to see all the corn flat on the ground, but got a shock when P2307 was still standing."
Although long-term growers of Pioneer varieties, 2017-2018 was the second time the Ronnfeldts had included P2307 hybrid corn in their 2200-hectare cropping program in the Dalby and Macalister districts of the Darling Downs.
The decision to grow P2307 was about chasing silage yield, meaning both cob and general plant mass production was a factor.
And yield it did, with the Ronnfeldts being surprised, and pleased, with the P2307 harvest in January 2018, given the severity of the New Year's Eve storm.
"It went well, a lot better than we were expecting it to," Ben says.
"It's the best silage we've ever grown, and the result was a combination of the variety and the season coming together to give us that performance.
"We'll be growing it again."